Dry Juice
Name
Leader
Mizuki
Type
Rib Team
Notable Color
Purple
Status
Active

Dry Juice is a Rib team led by Mizuki.[1]
About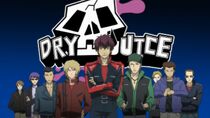 Dry Juice is currently the largest team of Ribsteez of Midorijima. Their tattoo is a tear drop. They are notably friendly with each other and consider themselves family. Due to their size, they are very well known and are feared by smaller groups such as Bug Bomb.
Description
The tag of the Rib team are the words "Dry Juice" in black and white with a characterized skull with a small crack on the top that connects the two words. Behind it are pink splatters coming out of the skull and beneath the word "dry".
Trivia
Aoba is asked multiple times to join the Rib team but denies it each time
Dry Juice is one of the Rib teams that "vanished" during the Morphine invasion
References